Batsi – Andros | Location
Batsi in Andros is one of the most popular summer destinations with thousands of visitors every year. Andros is a world-famous tourist destination. Thanks to its beautiful Cycladic beauty, Andros will give you a magical experience for your vacation.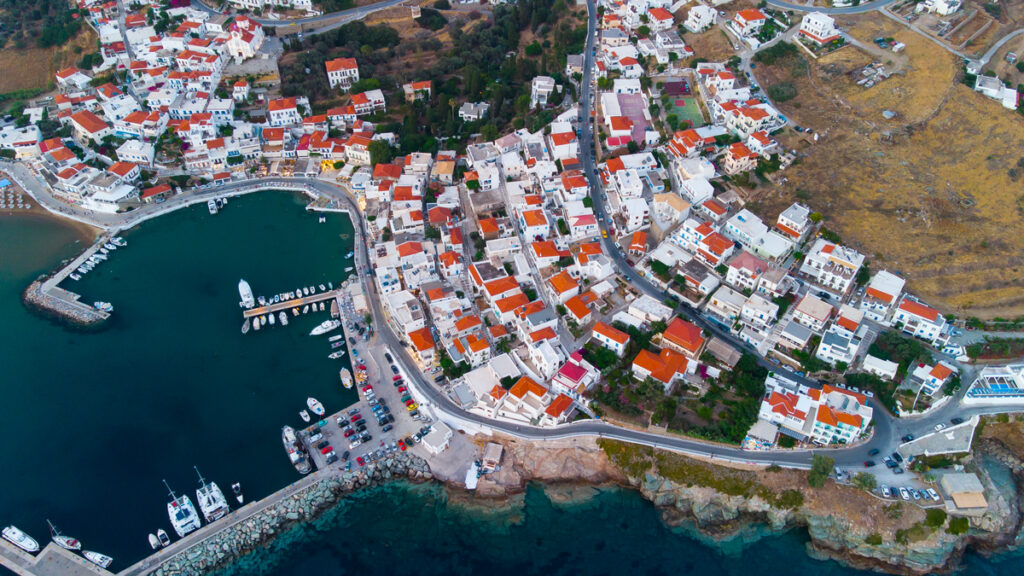 Why visit Andros?
Andros is one of the most beautiful Greek islands with a natural landscape that perfectly combines the high mountains with the green areas and the large coastline. Your trips to the island will definitely offer you an experience you have never experienced before. And of course, we should not miss the beautiful sandy beaches that will offer you, your company and your family what you could ask for from your vacation.
At any time you can enjoy your baths in the clear blue waters, relax on the beach or visit the sights and shops of the island. Besides, the island of Andros is a miniature of our country both in terms of natural beauty and entertainment.
Why stay in Batsi – Andros?
If you have visited Andros again or have studied a little about it, you will have heard about the enchanting traditional village of Batsi. Batsi is located at a distance of about 27 km from the country and is one of the most beautiful coastal villages on the island.
A place where tradition meets fun and promises to give you an unforgettable holiday experience. In this village are Likio Studios and next to the busy centre of the village where most cafes, restaurants and shops are concentrated.
A few meters below, you can visit the beautiful and homonymous beach Batsi, which has an excellent sandy beach, crystal clear waters and is the best choice either with friends or with your family.
So if you are planning to visit Andros and spend some unforgettable days, then Batsi is definitely the place to stay.
Popular beaches and destinations
Of course Batsi beach is not the only one where you can enjoy your baths. From the opposite side of the village, you can visit the beach of Kolona, which in addition to your swim will give you unique moments of relaxation overlooking the village of Batsi.
If you prefer a beach for your family vacation, then you should definitely not miss a visit to Agia Marina beach. If you still want to relax somewhere more secluded, you can also find beaches away from the world such as Stivari.
For the end, we left the sights that you can find near Batsi of Andros, with the most important of them the Archaeological Site of High Andros, the Archaeological Museum of Paleopolis and of course the Monastery of Zoodochou Pigi. All the above attractions attract a lot of people every day and in fact, are quite close to Batsi.
If you are still a lover of nature and generally beautiful landscapes, then all you have to do is ask us for information about the most popular trails near the village. Wonderful routes with enchanting alternations that are suitable for hiking.